Andy is Iron's supporter liaison officer
Scunthorpe United have confirmed the appointment of well-known fan Andy Brown as the club's supporter liaison officer.
Andy is a regular sight at matches, where he leads the programme selling team, and was the first chairman of the Official Supporters Club when it relaunched in 2004.
The club had been without an SLO since the turn of the year when Lesley Warburton left the club, though her role as SLO was not advertised and largely unknown to fans.
All 92 Football League and Premier League clubs in England and Wales are requireed to have an SLO. Their role is to help dialogue between fans and the club, assist supporters on matchdays and liase with the safety officer and police forces / stewards. Andy will now take on the role on a volunteer basis.
"I'm really pleased that the club were asking for a supporter to do it and I'm looking forward to contributing towards making the club better for everyone," Andy told the club's official website.
"A lot of people do still ask me things about the club because of my previous role so I suppose I've been doing it unofficially for a while but I'm pleased that the club have made a designated position.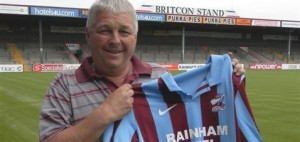 "I'm here to deal with any worries concerning tickets, away travel, matchday entertainment, the media, the ground and just anything that supporters have an issue with.
"I know of a few small issues that need to be looked at but the most important skill for me will be to listen to what the supporters want.
"I'm fully employed so I can't dedicate all of my time to the position but I want to do some good for the supporters and the football club.
"I know most people at the club personally so hopefully I can be the link that the supporters need to get their queries and concerns dealt with. I don't post on social media websites but if I have to in order to connect with some of the younger fans, then I'm quite happy to do so.
"One of the first things I'll try to do is get links with the younger supporters so they know who I am because a lot of the older ones already do."
Andy's contact details are:
E-mail: andy_brown99@hotmail.com
Post: Andy Brown
Scunthorpe United Supporters' Liaison Officer
Glanford Park
Jack Brownsword Way
Scunthorpe
North Lincolnshire
DN15 8TD
You can read more about the role of an SLO via
http://www.supporters-direct.org/homepage/what-we-do/europe-2/supporter_liaison_officer/faq
http://www.fsf.org.uk/slo