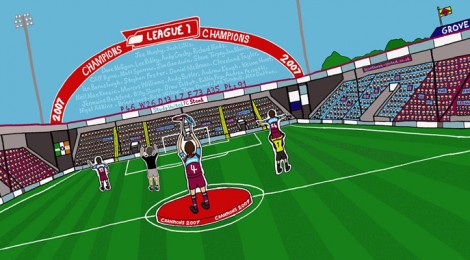 Buy limited edition Iron art
Scunthorpe United fan William Wharton is raising money for the Iron Trust by selling limited edition prints of his fine artwork on the club's history.
Two prints are heading to the National Football Museum in Manchester as part of the club's contribution to an exhibition marking 125 years of the Football League.
You can order prints (50 of each image were made) at scunthorpeironart.co.uk, with all profits going to the Trust. The Trust would like to thank William for his generosity.
Greeting cards and postcards of William's work will be available soon, both via the Trust and through the club shop at Glanford Park.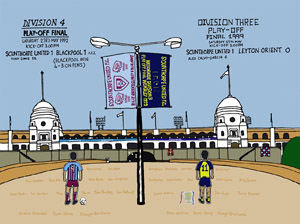 The Football League exhibition at the National Football Museum runs until April 2014.
"Across the country there will be items of historical interest that have pride of place in supporters' homes or are just gathering dust in their lofts," said John Nagle, head of communications at the Football League.
"If it's part of our competition's history we'd love to know about it, so that we can put it on display for football supporters everywhere to enjoy."
Anyone that would like to put forward an item of historical significance for the exhibition are asked to email details to 125@football-league.co.uk, including an image, if possible, and contact details.
"The Football League is at the heart of the game's history and this is a wonderful opportunity to display some of the objects that have touched the lives of millions of football supporters," added David Pearson, deputy director of the Museum.