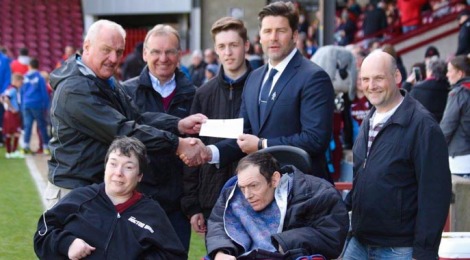 Community Shield donation to Lincolnshire House.
Iron Trust board members were on the pitch prior to Saturday's home game against Crawley to help present a cheque for £667 to Lincolnshire House.This was part of the club's share of profits from the Community Shield, which are distributed to local causes.
The Trust nominated Lincolnshire House, which was popular in a poll of members and has a relationship with SUFC's community projects.
The Trust also made a donation to Lincolnshire House following our most recent race night at Glanford Park, while the end-of-season Flag Day event will also raise money for them.
On the above image you can see from L-R: Lincolnshire Houses' Mick Blagg receiving the cheque, resident Gillian Smith, Trust deputy chairman Richard Harmer, Trust board member Jake Stockdale, resident Martin Hamner, Iron chief executive Jim Rodwell and Trust board member Mark Stockdale.
Our thanks to Scunthorpe United for once again allowing us to nominate a local cause. Image courtesy Rob Barraclough.