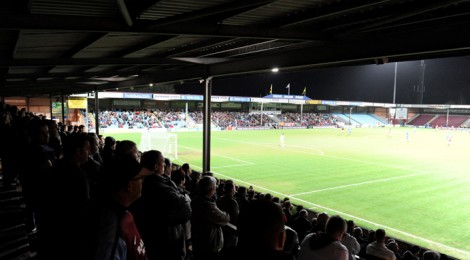 Scunthorpe United EGM (12/8/13) report
The meeting was chaired by Peter Swann. Also present at the main table were directors Rex Garton, Keith Wagstaff and Jason Oxenforth as well as general manager David Beeby.
Dennis Hobson did come to Glanford Park, but did not attend after his solicitor James Powell was refused entry by security staff working on behalf of the club, which Mr Swann explained was because a request for Mr Powell to act as a proxy was not received more than 48 hours prior to the meeting. Mr Hobson made no written representations to the meeting.
Mr Wagstaff spoke to explain the timeline behind the dispute with Mr Hobson. He explained he had known Mr Swann from his time at Gainsborough Trinity, and after seeing in a local newspaper that he was due to take a role at Lincoln City made contact via email on April 24 to see if he wanted to meet for lunch.
On Saturday April 27, Steve Wharton resigned as Iron chairman following the final game of the season and the board members agreed on Dennis Hobson as his successor. He was due to come in on the Monday morning to be presented to club staff.
On Monday (April 29) morning Mr Swann had a phone conversation with Mr Wharton, after which Mr Wagstaff rang the club's majority shareholder.
"I drove here on Monday morning with the view we were supporting Dennis Hobson as chairman," said Mr Wagstaff.
On that morning it became apparent to the club's directors – minus Mr Hobson – that Mr Swann was interested in becoming chairman and investing "substantial amounts of money" into the club.
"We had promised the chairmanship to Dennis, but we had someone we knew very well who was far better for the job," said Wagstaff.
"It was a very difficult few minutes, but the decision was to tell Dennis Hobson we wanted Peter Swann as chairman.
"Did we break our word? Yes. Would we do it again? Yes. It wasn't the best thing thing we ever did, but it was the best thing to be done for SUFC."
Mr Swann had already agreed to join the board at Lincoln, and shook hands on a deal with the Lincoln chairman Bob Dorrian. He suggested he had concerns that the club had given a manager a three-year contract and signed players without consulting him.
He also revealed he had been approached by Mr Wharton "three years ago" to join the board. He praised the "bravery" of the club's directors in going back on decision to appoint Hobson.
"We still wanted Dennis Hobson on the board as a director. I eventually had a meeting with Dennis for an hour," said Mr Swann.
"Several things were said in the press. We were very unhappy with his radio interview (see here for recording). One director received threats of financial ruin and of ruining the club.
"I haven't spoken to him since May. He has not turned up to one meeting. The relationship between the board and Dennis Hobson is untenable. I was hoping he would be here but he refused without his legal representative."
Mr Swann revealed plans to invest further sums if needed in December through share purchases – he needs a resolution passing at the club's AGM early that month to allow it.
The meeting was then opened up to questions from the floor, with the first question being why the decision on a replacement chairman was left to the last minute.
Mr Wagstaff replied: "We had a problem when Steve Wharton decided to leave and we were looking for a replacement. neither Rex, Jason or I could become chairman for personal reasons. Rex and I considered jointly taking on the role, but were concerned about about being seen to be taking a temporary view. To be absolutely honest, Dennis was the only game in town."
Mr Garton added: "We approached Dennis and got on very well. As the season neared its end the indications from Steve Wharton was that he would prefer to retire at the end of the season not at the end of June. The haste was brought on by that."
Question from the floor: Are the club obliged to buy back the shares Dennis Hobson owns in the club?
Mr Swann: "There is no legally binding reason to buy back his shares, but Dennis did want a lot to leave."
Q: Was Dennis Hobson asked to resign as director?
It was re-iterated that the board initially wanted Dennis Hobson to remain as director, they were "just de-selecting him as chairman". Mr Hobson has since been asked to resign but has not done so, there has been no contact with the club at all with all dealings going through his legal representative. Mr Swann said "he wanted more money for his shares than he paid".
Mr Garton also confirmed that the board were unaware Stewart Groves and John Green would join Mr Hobson at a Q&A session with Iron Trust members after the supporters trust's AGM in February (click here for full transcript of that evening). The board were aware of Mr Groves' aspirations to join the board and "were comfortable with that". The board did not know of Mr Green (former chief executive of Chesterfield FC).
---
---
Former Iron chairman and current majority shareholder Steve Wharton did not attend the AGM, and his votes were not given to a proxy. He has agreed to allow us to put his view across to members, and his words – which were written before the EGM, are below:
"I did not support the election of Dennis Hobson to the Board but as I had already announced my intention to step down at the end of the season, and as Dennis was supported by the remaining directors, I did not oppose his appointment.
I had a meeting with Dennis and his associate / friend, Stewart Groves when they outlined some of their plans for the club. We had a courteous meeting but I made it perfectly clear I could not support their plans. I did, however, concede that they may well be right and I may well be wrong but it was my loan which was at stake and they were unable or unwilling to refinance the loan.
I did, however, give my word that I would not use my shares to oppose Dennis and I was happy for him to be judged by the remaining shareholders.
As far as I was aware, the Board were going to elect Dennis as their Chairman on the Monday following my resignation at 6pm on the final day of the season.
Over that weekend I became aware of Peter Swann's possible interest and was asked to give him a call. I was unable to make contact until the Monday morning. I had previously been introduced to Peter some four years ago and I tried to encourage him to join us. At that time he was heavily involved with Gainsborough Trinity and had some very ambitious plans in the pipeline. As far as I was aware, this was still moving forward and his interest now in Scunthorpe United was a complete surprise to me.
For me, there is no doubt that Peter Swann is by far the better candidate to take Scunthorpe United forward. It was a very brave decision for the directors to reverse their decision and not elect Dennis as their Chairman but I do have some sympathy for Dennis as he was an innocent victim. His mistake was in going public before the Board issued any Press Release.
It is understandable that Dennis and the Board are no longer the best of friends and I believe he was asked to resign. Any director should always put the well being of the club before his own self interest and as he refused, I assume that is why it was felt necessary to call an EGM.
As I said earlier, I am confident Peter Swann is the man to support but having given my word not to oppose Dennis, I will not be attending the EGM and my shares will not be voted. The situation is very different from when I made that commitment but I still believe it is preferable that the remaining shareholders decide the future of our football club."
---
---
The poll was conducted on a one vote one share basis, with 98.95% of the shares in the room backing the removal of Mr Hobson as director.
The members of the Trust board who were present discussed the presentations made, and felt it was still impossible to make an informed decision without hearing Mr Hobson's side of the story as it was evident he may dispute some of the statements made about him during the evening.
We felt we could not endorse the motion to remove him on that basis but, equally, did not wish to do anything to hinder the club moving on under the chairmanship of Peter Swann who has brought some optimism to the club and pledged investment. The Trust, therefore, chose to abstain rather than vote for or against the motion and look forward to continuing to develop our relationship with Mr Swann and the remaining directors.
After the closing of the EGM, the chairman took general questions about the club. He said a top-three finish was his aim for the season, that winger Terry Hawkridge would not be sold and that there would be no problem extending his contract beyond this season, and re-iterated plans to develop facilities at Glanford Park or move to a new ground. He said the club were not looking for additional directors.