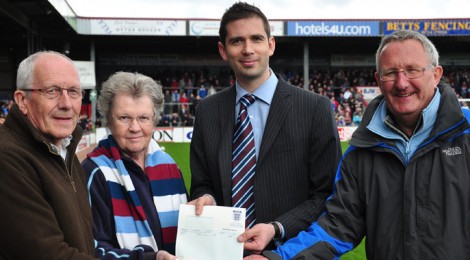 Foodbank receive Community Shield cash
Scunthorpe Foodbank received a cheque for £666 ahead of the final game of the season against Swindon, after being chosen by members of the Iron Trust.
The money was their share of the £2,000 Scunthorpe United received to distribute out of the profits from the season-opening Community Shield at Wembley.
The Iron Trust, Scunthorpe United Supporters Club and Winterton Iron were all asked to nominate a local charity to receive a third of the cash – after a vote of members, the Foodbank was put forward from the Trust.
The Foodbank is run jointly by Scunthorpe Baptist Church and the Trussell Trust.
The Trussell Trust recently released a report revealing 346,992 relied on them across the country for a minimum of three days' emergency food in the past 12 months – a 170 per cent rise from the previous year.
This money will help people in Scunthorpe who would otherwise go without food.
Lindsey Lodge were nominated by Winterton Iron, while the Official Supporters Club put forward the Cardiac Rehabilitation Interest Group.