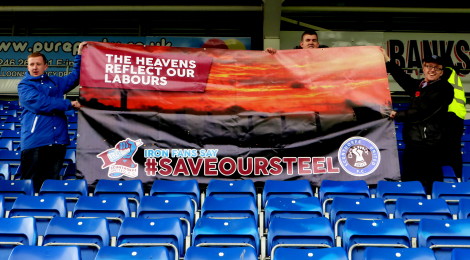 Iron fans say #Saveoursteel
The Iron Trust will proudly lend its support to the Save Our Steel campaign ahead of Saturday's home game against Barnsley.
The Iron Trust is not a political organisation in the sense we do not consider ourselves right or left wing or involve ourselves in matters that are not football-related. But we care passionately about our town, our constitution says we should aim to help the local community and we have worked with great local causes like the Foodbank, Lincolnshire House and Cafe INDIEPendent.
So this Saturday we will be pleased to lend our support to the Save Our Steel campaign. The #Saveoursteel flag which you may have seen at Chesterfield last Saturday will be at Trust Corner before the match along with people collecting petition signatures – if you can please stop by to chat to those whose jobs are on the line and consider lending them your support.
The following home game, against Southend United in the first round of the FA Cup on Saturday November 7, has been dedicated as a day dedicated to the steelworkers and their families.
Players will warm up in t-shirts supporting the steelworkers, while the club have promised extra coverage in the matchday programme and on their website.