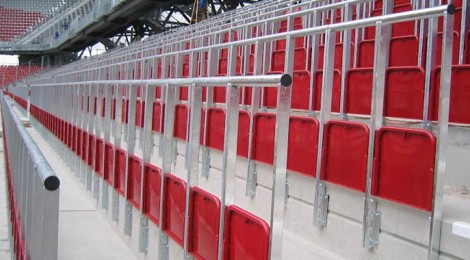 Rail seating makes UK debut
The Football Supporters Federation have praised Bristol City, after the League One outfit became the first club in England to instal rail seating in their stadium.
The area at Ashton Gate was unveiled on Wednesday 12 February. Under current Football League regulations it cannot be used for games, but will instead be used when Bristol Rugby – who will also use the stadium from September – are at home.
Malcolm Clarke, chairman of the Football Supporters' Federation, added: "What we were often told for many years is that none of the football authorities were in favour of it.
"But that is clearly no longer the case as the Football League, after a very thorough consultation, have shown that a large majority are in favour.
"We hope that the Premier League now, at the appropriate time, will consider this. There are a number of Premier League clubs who are openly in favour and then we can take the debate forward again."
Current legislation prevents the use of rail seating in English football, while any terracing is not permitted in the Premier League or Championship.
Football League clubs recently voted to lobby for a change in the rules, and it seems only a matter of time before the limits are relaxed.
Bristol City say they have installed a block to showcase its benefits and provide a clearer example of how they work.
Bristol City FC chief executive Doug Harman said: "If we are given the relevant permissions, this could be a great opportunity for Bristol City FC to become the first club in the Football League to install rail seating, as well as becoming a showcase for other teams up and down the country.
"At last week's Football League meeting there was clear strong support from clubs for the League to approach the authorities for a relaxation and change in the regulations.
"We've received feedback from our supporters who are keen for the option of safe standing and with the proposed redevelopment of Ashton Gate and Bristol Rugby's move to the stadium this summer, this seems to be the right time to explore this further."
Safe standing is particularly relevant to Scunthorpe United supporters, with plans for a new stadium currently being drawn up by the club.
The most common feedback from Trust members about the proposals is the desire to see a terrace. Iron chairman Peter Swann has said he would like to see this, but only if regulations allow it to be used in the Championship.
As it stands, if the Iron were promoted back to the second tier they would have to shut the Doncaster Road terrace or bolt on seats.