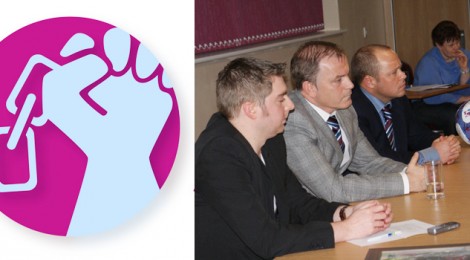 SUFC director answers members questions
Scunthorpe United Football Club director Dennis Hobson attended a meeting of Iron Trust members on Thursday February 28 2013 to answer their questions.
A full transcript of the evening, which followed the Iron Trust AGM, is here. Key highlights were:
Financial advisor Stewart Groves and former Chesterfield chief executive John Green are advising him. Both expressed an interest in joining him on Scunthorpe's board.
He has purchased £20,000 shares in Scunthorpe United Football Club
Said he had "no plans to turn this into a retail park, sell the club off or anything like that" in response to fans concerns that recent planning permission for a development next to the stadium would make the club an attractive prospect for someone looking to profit personally from selling part or all of the club's land.
Stressed his willingness to work with the Trust and engage with supporters, saying he would watch an upcoming home game from the terrace.
Distanced himself from Club 9 Sports, the American company who had tried to purchase Sheffield Wednesday. They later tried to buy Rangers.
The Trust would like to thank Dennis Hobson, Stewart Groves and John Green for taking the time to engage with our members. We hope they continue this spirit of interaction for as long as they are associated with Scunthorpe United Football Club.
The question and answer session followed the Iron Trust AGM, you can read a review of the evening here.
Picture L-R: Iron Trust board member Luke Thornhill, who moderated the session, SUFC director Dennis Hobson and financial services advisor Stewart Groves.