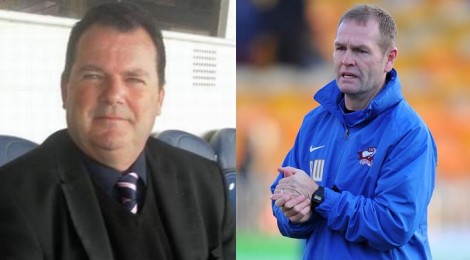 Swann and Wilcox to attend Trust AGM
Scunthorpe United chairman Peter Swann and first-team manager Russ Wilcox will attend the Iron Trust AGM on Wednesday February 12 to take part in a question and answer session with members.
The Trust's AGM will be held in the Sir Ian Botham Executive Lounge from 7pm, and be followed by a question and answer session with Mr Swann and Mr Wilcox from 8pm
The AGM itself is limited to Trust members (you can join on the night), while the question and answer part of the evening is open to all supporters.
Mr Swann will answer questions about the running of the club, which he has been chairman of since the summer, and his plans for the future.
This is bound to include any developments on the new stadium proposals, images of which have recently been made available by the club.
Mr Wilcox has overseen a fantastic run of form since taking over the first-team at Glanford Park, a run that has left the Iron top of the League Two table.
It will be the first opportunity fans have had to question him on the team since taking over as manager.
Trust board member Luke Thornhill said: "We'd like to thank Mr Swann and Mr Wilcox for giving up his time to attend the meeting and provide valuable insight to members, continuing the club's aim of engaging with supporters as much as possible.
"We hope as many people as possible take up the option of putting questions to the chairman, as well as finding out what role the Trust can play in the club in the future we are sure there will be plenty of questions about the proposed new stadium.
"And we are delighted to give supporters the opportunity to question the manager for the first time since he took over. We think most supporters will be delighted with the form he has overseen, so expect it can be a really positive evening."
The Iron Trust is also running a charity race night at Glanford Park on Saturday February 8 (following the home game against Chesterfield), to raise money for the Trust and Lindsey Lodge Hospice, Scunthorpe Foodbank and Lincolnshire House.
Tickets cost £10 and include pie and peas as well as £6 worth of bets (£8 for Trust members). Tickets can be bought from the ticket office at Glanford Park, from Trust Corner (under the stadium wrap) before any home game or from www.theirontrust.com.