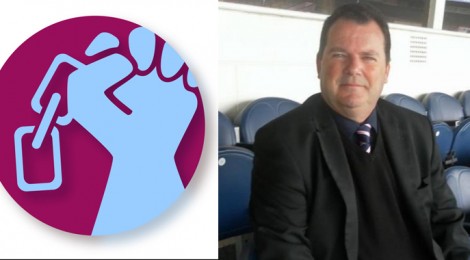 Trust keen on Swann song
The Iron Trust is delighted to hear new Iron chairman Peter Swann declare an interest in working with them.
Swann was confirmed as chairman on Friday morning, and in an interview with the club's official website said he was keen to meet with the Trust.
"When the fans come in, we need to make that experience better for them. We need to improve the facilities if we can for the supporters," he said.
"I want to work with the Iron Trust, help them develop and get involved. I need to talk to them and see what their objectives are and what they want to do for the club.
"I believe if a Trust is run correctly, and has the right objectives, it will help the club enormously.
"I also want to get a fans' forum going in the next two or three weeks, where they can meet me and we can have a chat.
"It's very important for us to understand what the fans want – what experience he, she and the family wants."
"I'm not going to post on an internet  forum like I did at Gainsborough, but I will make sure supporters can get hold of me, and that they can send me questions – which I will answer as much as I can."
The Trust is encouraged by these comments from Mr Swann, and look forward to working with him, the board of directors and senior staff at the club.
We believe the best way forward for the club is a policy of fan engagement, and are delighted Mr Swann appears to share this aim.
"By fan engagement we mean working in partnership with supporters without making assumptions about what they want," said Luke Thornhill, Trust spokesman..
"The club needs to find out what the club means to fans and talk with them about what matters most in their relationship with the club.  Then to work openly and honestly with them to come up with the necessary improvements."
The Trust has 255 members and is accepting renewals for the 2013/14 season. You can join or renew via the ticket office at Glanford Park or via our online sign-up page.
Membership will remain at £10 per adult, £3 for U16s and £20 for families (2x adults and unlimited U16s). You can get more details of the benefits of membership, and the Trust's achievements so far, here.