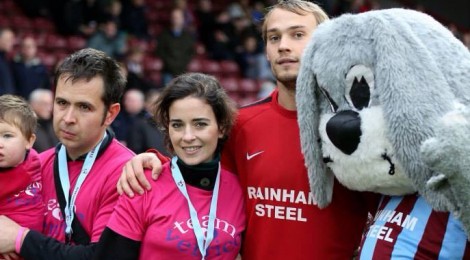 Help honour Anna's memory
Iron supporter Anna Verrico fulfilled one of her lifetime wishes on Saturday November 16, when she and her two young children walked out with the first-team ahead of the match against Accrington Stanley. Anna had a rare form of breast cancer, and supporters contributed £1,500 – matched by SUFC chairman Peter Swann – to a collection towards treatment that could save her life.
So news of her death on the Wednesday, so soon after endearing herself to supporters, was met with great sadness. Although many supporters did not know Anna or her family personally, she made a big impression on every connected with the club.
After a suggestion from a member to raise money to honour Anna in the Centenary Wall at Glanford Park, the Iron Trust and fans website Iron-Bru.net has started to collect further donations online. Scunthorpe United have agreed to provide space on the Centenary Wall at no cost, so all money raised will go to the family who will hold it in trust for her children Lucia and Alessandro who now have to grow up without their mother.
ABOUT ANNA
Anna was diagnosed with a rare triple negative breast cancer in 2012. She had an operation and was told that she was 'Stage 1 – with clear margins' – in non-surgical terms, that meant she was in a good place, the cancer was caught early and her prognosis was excellent. She was given the option of chemotherapy 'belt and braces' which she embraced as part of the need to make sure the cancer went away and never came back. Six cycles of chemotherapy were completed in April 2013.
Anna was training to raise money for a cancer research charity in August 2013. While on a training run, she felt short of breath. This was initially diagnosed as a chest infection. It was not. The cancer had returned and was cutting a bloody path through her body. In five months she had gone from being told she was 'all clear' and to get on with life, to being told by both her surgeon and oncologist in September 2013 that her cancer had spread, was incurable and fast growing.
In desperation, the family met Professor Justin Stebbing to see if any pioneering treatment was available, the total cost of this was £115,000 – prompting a huge increase in fundraising, including the collection prior to the Iron's game against Accrington.
HOW TO DONATE
Online: we are accepting donations via Paypal, which you can access via the button below, or BACS payments to our account (Scunthorpe United Supporters Society, Account number: 65568383  Sort code: 08-92-99: please mark any payments for this fund as VERRICO). As there is a Paypal charge, please consider an online BACS transfer if you are able to.
Offline: cheques (payable to Scunthorpe United Supporters Society) can be sent to us at 35 Brumby Wood Lane, Scunthorpe, DN17 1AA). Please make clear if it is a donation towards this collection, rather than the Iron Trust itself. We will also be able to accept cash contributions at Trust Corner ahead of the game against Torquay United on Saturday November 30. You can also make a payment via your local bank branch, ask for a transfer to Scunthorpe United Supporters Society (Account number: 65568383  Sort code: 08-92-99, Bank branch: Co-Operative Bank, PO Box 250, Delf House, Skelmersdale, WN8 6WT)
FUNERAL
Iron fans are welcome to attend a memorial service for Anna, which will take place at Glanford Park at 12noon on Friday November 29. The funeral cortege will go through Epworth High Street at 10.20am for a 10.30am committal at the cemetery.
To find out more about Anna and the fundraising go to www.calls9.com/teamverrico.