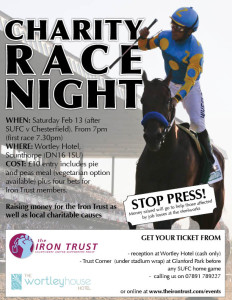 CHARITY RACE NIGHT – Saturday February 13, 2016
The Iron Trust's annual race night will be held at the Wortley Hotel in the centre of Scunthorpe. Tickets cost £10 and include a pie and pea meal plus four free bets for Iron Trust members (you can join on the night if you wish).
Tickets are available now from the Wortley Hotel (cash only), by calling at Trust Corner before any Scunthorpe United home game, by calling 07891789227 or using the Paypal payment option below. If you are interested in sponsoring a race please get in touch.