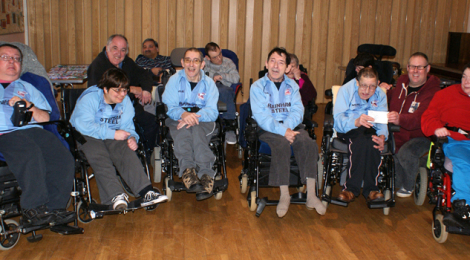 Foodbank / Lincolnshire House donations
The Iron Trust handed over cheques totalling £500 to local causes after their most recent race night, held at Glanford Park.
Scunthorpe Foodbank and Lincolnshire House both received £250 out of the Trust's profits for the evening, continuing their support for both organisations.
The two local organisations have been supported by the Trust since its inception, when they polled highly in a vote of members.
Helen Armstrong, implementation and resources managers at Scunthorpe Baptist Church, who run the Foodbank, said: "We really do appreciate the Trust's ongoing support the running of our foodbank. We have ongoing warehousing costs and find ourselves needing to buy certain types of food – monetary donations really help with these costs.
"As we head into a new the financial year we have exceeded the previous financial year's total number fed of 2,641. This will equate to around 20t of food distributed."
Belinda Parrington, registered manager at Lincolnshire House, said: "We are currently improving Genesis and Woodlands, which is the largest bungalow situated at the back of our grounds.
"It was the first individual bungalow to be built and as the oldest is not quite up to the standards we want all our residents to enjoy – although residents had lovely big bedrooms, the did not have en suite facilities so had to share the bathoom and toilets.
"Through fundraising we have managed to raise enough money to make the necessary alterations so that each resident will have an en suite bathroom/wet room with a bath, toilets, sink and shower.
"This will bring their bungalow up to the standards enjoyed by the other residents. They will all have new ceiling hoists as well, and this donation from the Trust will go towards one of those."
Lincolnshire House gained a further £667 as part of Scunthorpe United's share of Community Shield revenue.
SUFC distributes £2,000 to charities in North Lincolnshire, with the Trust asked to nominate a cause to receive one third of the money.
The Trust nominated Lincolnshire House, which was popular in a poll of members and has a relationship with SUFC's community projects. The end-of-season Flag Day event will also raise money for them.
Lincolnshire House has a strong association with the Iron, and have partnered with the Scunthorpe United Trust since 2011 to run a SUFC wheelchair team.
Lincolnshire House's Eddie Galpin said: "Scunthorpe United and their staff play a pivotal role in training our wheelchair footballers, and we have had the opportunity to attend tournaments and player other powerchair teams in other areas.
"As well as being enjoyable, our residents get a lot out of the training in terms of confidence, communication and wheelchair skills.
"There is obviously a cost to our participation. Chairs have to be serviced and, at some point, need replacing, while we have to hire the hall and there are travelling costs.
"While we receive a lot of help from Scunthorpe United, we need to look at ways of fundraising to help with these costs."