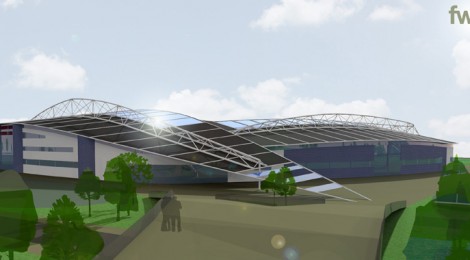 Outline planning permission for Lincolnshire Lakes
Scunthorpe United's proposed new stadium  moved a step closer on Wednesday, with planning permission given for four elements of the Lincolnshire Lakes development which it will be incorporated into.
North Lincolnshire Council granted outline planning permission to plans from the Lucent Group which would see a new junction from the M181, a commercial park – which would include the new stadium – and 3,000 new homes.
The overall development is intended to create 6,000 homes in two new villages.
Outline planning permission was granted for the commercial park, which includes a food store, restaurants, hot food takeaways, a sports, health and leisure facility, a hotel and pub and offices.
Full planning permission will still need to be obtained for the Iron's proposed stadium, which is expected to be approved before Christmas.
Lucent's head of planning Anthony Brindley re-affirmed to the Council's meeting that an agreement was in place to provide land to SUFC for the stadium, which Iron chairman Peter Swann has previously said was for a nominal fee.
You can read more details in this week's Scunthorpe Telegraph, or on their website.