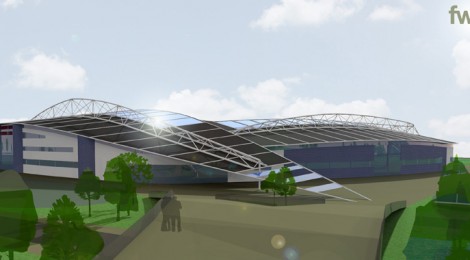 Stadium contractor named by SUFC
Scunthorpe United have named Buckingham Group Contracting as the firm who will build the club's proposed new stadium.
The Silverstone-based company built Stadium: MK, Brighton's Amex Arena and the Copper Box arena in London which was built for the 2012 Olympic Games.
North Lincolnshire Council approved the planning application, with caveats, in May and club chairman Peter Swann reckons it can be completed for the start of the 2016/17 season.
He said: "The group has a fantastic track record of working on and delivering major stadium developments and the appointment means that we have our team in place and are now ready to begin construction of our new home.
"We cannot wait to get started on work to deliver something really special for our fans and for the community."
David Robinson, managing partner at architects Frank Whittle Partnership, added: "We are delighted to be working with the Buckingham Group once again on this plan to create a vibrant and modern development that will be a real asset to the community and the local economy.
"We have a strong track record of delivery working alongside the Buckingham Group which includes Leicester Tigers' Welford Road redevelopment and the recently completed Gloucester Services on the M5.
"The development at Scunthorpe aims to provide a real destination venue for sport, leisure and entertainment for the whole of the local community, with real benefits for the club and its supporters.
"It will provide the club and its fans with fantastic facilities and we've designed the stands to ensure the supporters are close to the action on the pitch, adding to the atmosphere and the match day experience.
"The plan will deliver a vibrant, modern new home for Scunthorpe United and its supporters and we can't wait to start work with the Buckingham Group on its construction."