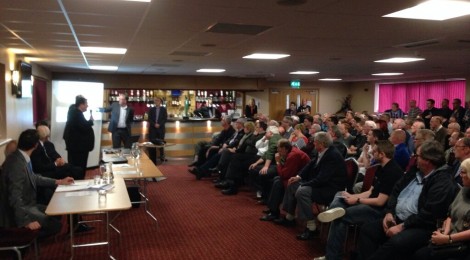 SUFC consultation on stadium plans
Scunthorpe United chairman Peter Swann was joined by architects from Frank Whittle Partnership on Tuesday April 22 to reveal details of the proposed new stadium.
Mr Swann was joined by Neil Ainsworth, Brad Grime and Nick Wiley from FWP, who presented slides of the initial designs – stressing it was still a work in progress – and answering questions from the floor.
Here are key points that came out of the meeting:
FWP's Neil Ainsworth suggested a planning application could be submitted in 3-4 months, Peter Swann believes it can be done in half that time.
Peter Swann is hopeful the club will be given the land for the site for free.
The stadium is a bowl configuration, but with four separate stands with facilities in the corners.
The main (north) stand is four storeys, with the other stands all being three.
The front row of every stand is above pitch level, with the stadium roof overhanging to provide shelter from rain.
There will be areas for disabled fans and carers in all four stands.
The main stand will be 5,000 capacity, with 3,000 in the stand opposite and 2,000 in each end stand.
Away fans will be housed in the south stand, opposite the main stand, with home fans behind each goal.
There will be 1,200 parking spaces on the site.
Rain water collection will be used to provide irrigation for the pitch, with solar panels also incorporated into the site.
Mr Swann re-iterated his willingness to put money into the project, but also said there would be "managed debt" to cover costs (estimated to total around £18m). Mr Swann believes there is £6-8m available in grants.
One of the stands behind the goals has a rake to allow the inclusion of rail seating if regulations are changed in the future to allow use in Football League.
Pitch size being worked to is the largest permitted by Uefa.
Supporters centenary wall, currently outside the ticket office, will be moved to the new stadium
Peter Swann homes to be able to host England youth/women's internationals.
The stadium will be named after a sponsor, and there is already "some interest" in the naming rights.
The new ground will use an electronic card ticketing system.
The open meeting was preceded by an EGM of shareholders who were asked to approve a resolution increasing the amount of shares from the £2million share capital which could be allocated in the current year.
Mr Swann explained this was to allow him to purchase £450,000 of shares now to "secure the financial future of the club". This was passed unanimously by the shareholders present.