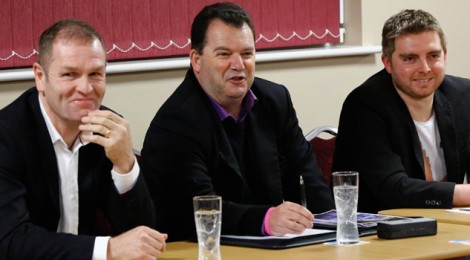 Swann: More members will get Trust more say
Scunthorpe United chairman Peter Swann told members of the Iron Trust that he wanted the supporters organisation to have more say in the club in the future, but that the club's fanbase needed to back the organisation first.
Mr Swann took part in a question and answer session after the Trust's AGM in February (read the full transcript here), answering questions about the proposed new stadium, the role of supporters in the club and the success enjoyed under new manager Russ Wilcox.
In response to a question about a Trust representative joining the club's board, Mr Swann said the group needed to have more members than current.
He said: "If you represent more members, it will be easier for you to come on the board. And that's not necessarily paying something to come on the board, because I don't think that is the way to do it.
"I think it is about growing the membership. If you have a big membership and represent more people, you are more likely to be on the board in some way or other."
Mr Swann also re-iterated the club's support for proposals to allow terrace areas in the top two divisions of English football – something the club supported in the Football League's recent consultation.
He said: "We were at Derby FC for the meeting, and voted positively on all four questions. It is important to us because we are looking at a new stadium.
"I is starting to take some momentum now, and if it works we will be there. But we need legislation to come in and the government to be brave enough, then we will do it. The question is will they? There is a long way to go but there are a lot of positive signs.
"Bristol City have already put it in, but it's no good us doing it then finding out we can't use that area. The only way we will put it in if we are absolutely certain we will be allowed to use it. I would like to put standing in there to start with and give ourselves a few years, but the fact we'd have to go in to the Championship with all-seater means we cannot do that."