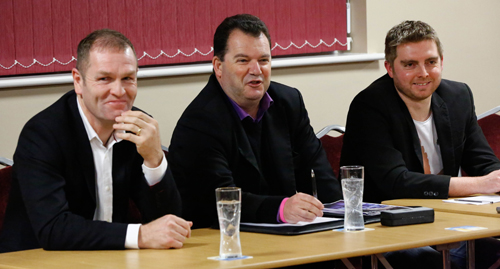 Iron Trust Q&A with Scunthorpe United chairman Peter Swann and manager Russ Wilcox. Held in Sir Ian Botham Executive Lounge from 8pm on Wednesday February 12 2004. Moderated by Trust board member Luke Thornhill.
LT thanked PS and RW for attending, explained that there is a list of questions submitted via email and twitter, but that priority where possible would be given to those in attendance – especially as they braved heavy winds to attend.
First question from floor: At the SUFC AGM it was suggested the original concept of a new stadium was initiated by North Lincolnshire Council. Is that the case, and what was the proposition?
PS: There  was an interest of a stadium shown prior to be joining the club. As soon as I came on board and they had seen what I had tried to do at Gainsborough, I had already had some contact with Liz Redfern and a few others on the Council who asked if I was still interested. The second phone call was to go to a meeting and have a chat, and within a month we got the ball rolling and it continues to roll quite well.
We had another meeting last Friday (Feb 7) with (architect firm) Frank Whittle Partnership, who met the Council and in their words it was one of the best meetings they have ever had with a Council. There is excitement and positiveness at how they want to push us forward, and we have just got to carry on working with that and hope we get to the end project.
What was their interest in wanting to get your support for this embroynic project?
PS: The opportunity is for the Council to create a sporting legacy, which is what it is, and be part of the community. I think that is why they have grasped the idea. We are not far away from what is potentially 6,000 new homes on the outskirts of Scunthorpe. So there has been a combination of everything. It is difficult to go into all the discussions we've had and tell you everything, all I can say is the concept has grown pretty quickly. Most clubs have a concept of moving to a stadium at some point, when I looked at the books here and the turnover I could see there needed to be a new business idea. It seemed the most positive, and the only one if we are going to better ourselves, that we need to get ourselves involved with if we are to get ourselves to a seven-day-a-week business model. We have to work with other commercial partners and try to include them in the plans, which we have started to do.
Have we got to a point then where we have made an offer for a site?
PS: We are leaving the negotiations for the land with the Council, and whatever happens with that we'll deal with it at that time. I'm very hopeful we can come to a deal, we're working on the premise that the deal will be done.
I'm a big fan of a blend of youth and experience, we seem to have faltered a little bit while Deon Burton has been out. Can you give us an update on his injury, and your plan B.
RW: With Deon, we're hoping to get him back from the calf injury sometime in March.  He won't like me saying this, but it takes him a little bit longer at 37 rather than a 21-year-old with the same injury. I totally agree, he has been a terrific focal point up front. I think you can see in the past couple of games the ball has not been held up there, which allowed us to play and link off and get wide. We've looked at the stats since Deon has been out of the team, and we're not getting as many crosses in the box or balls threaded through from midfield because it is breaking down a bit more with him not being there using his experience and strength. I think you have all seen what he brings to the table. I worked with him at Sheffield Wednesday so we knew exactly what we were getting. What you may not have picked up on are his leadership qualities in the group, he has vast experience having played at the top level, having played almost 60 games for Jamaica. I do agree, he has been a miss. Having said that, I thought Paddy Madden did well for his first start on Saturday – the front two of him and Sam, Winnall did well for their first game against a top team.
Can a 4-3-3 formation with Madden, Winnall and Paul Hayes up front work?
RW: I'm sure it can. It is something we have looked at, we tried that a little bit at Hartlepool with the two up and Hayesy in the hole. He is good at dropping in that hole, the combination with Gary Hooper work a treat with the latter playing off the shoulder of centre-halves. I think Madden and Winnall are both similar to Hooper, so with Hayes in the hole it can cause problems for opposing teams. It has been difficult to make a lot of changes system-wise, because it has been sp successful. a lot of the draws should have been wins, certainly at Wycombe, Bury and Dagenham, and  we've competed in all 14 games.
In the past five games (all draws) there has been positives and negatives. The key is that we've not setup a team for a point. I've surprised myself, as a former centre-half, at how offensive I've wanted to be. But you assess what you've got in your group, and I think the players we have got are good enough to go out and win every game.
I take it the new stadium is not going to be too far from where we are now, given since the AGM there has been flooding. If the ground is going on the flood plain are we going to be able to accommodate it?
PS:  All that will be taken into consideration, the area that we hope to go to has had a report on it and it has not been underwater in the recent floods. Of we need to put a base in, we will do so, but I don't think that will be needed.
Follow up from comment on stadium: does this involve paying for the land? Does this preclude us from grants if we do not own the land?
PS: I'm going to leave that to them, though obviously I'd like to not pay anything for the land.  We would own the land, one way or another – even if the council procure it – we'll pay for it if we have to. They are talking to the landowner at the moment on our behalf.
As far as I'm concerned, my focus is on getting everything in place on the planning and working with them. I haven't really got involved in talking with the landowner yet, but there will be a time we sit down and have a chat. Things are never done overnight, but we will get there. It is very positive at the minute.
You want a new ground to generate revenue seven-days-a-week. With the shopping development next door, have you looked at developing the current ground? Surely the shops all around here are attracting people to you as people want somewhere to get lunch etc.
PS: I appreciate it might seem rushed. If we get everything right we can do this in 18 months, if it doesn't it'll take us another year. If it takes that extra year, then it does. I'm working at the optimum I can to try and get us in.
We did look here about what we can do. Access to the site is one road in/out. It gets quite chocca and is going to be even worse when M&S and Debenhams are next door – Saturdays are going to be very difficult. Car parking is going to get tight. To build a new stand would probably cost £3-4million – and what do we build it on? If we build it on this framework there is a lot of work needed on this site. The land here will be worth more in the next couple of years as the retailers take an interest in this site, and we'd be better spending our money building on arable or commercial land which is a lot cheaper. We want to include better access in and out of the ground, so people aren't waiting 30 minutes to drive out, we want to offer different facilities within the ground. We want to bring in commercial partners like a hotel, gymnasium and creche. We want to bring our training facilities on site, with a 3G pitch, we'd love an indoor pitch as well and community pitches on site, five-a-side floodlit pitches, cafeterias. All on one site, so we're not training on somebody's field two miles away.
By doing that we create a chance to become a category two academy facility, because after an audit we had recently, it really is all about facilities now because the coaching staff have done ever so well here, and to get category two would really help us. I can't go into every detail yet. We have what 12/13 acres here, and it is very difficult to move all that into here and build on this. It just isn't practical, and I don't know how many people would invest in this site who we could get in on a new site. The excitement of a new stadium gives us more opportunities to speak to hoteliers, and we're not planning on going too far away.
Over the next month or so I'll be able to tell you a little bit more about it, and hopefully you'll begin to understand that really the only model is to move to a new stadium with new opportunities.
Have you looked at a brownfield site in the town?
PS: There just isn't space. We are limited to where we can go. Transport is a major issue. A bus service and possible rail terminal, all those things are in there. The transport thing is a major point, if there was a bus from the centre or other side of town that would probably work and is in our plans.
We don't want to move a long way away, but opportunities come and we need to take them. The opportunity to have all our facilities on one site is very rare, and I believe it is the right move for us. Until I can go into a little more detail people will ask questions, but I can assure you I wouldn't be going down this route if it wasn't viable for us. Trying to find £8m to redevelop this site is really difficult, and it makes no sense to build that sort of complex on £400/£500,000 an acre land which is what this could be in a couple of years. It makes a lot of sense to find a cheaper site, where we can put the money from where we are now into the new stadium so it becomes self-funding to a point – there will be some borrowing, as there always is, but that will be against leases and commercial partners that will be on board with us. Over the next four or five weeks we will be able to open that up a little bit, once we can we will hold a forum for everybody to come and have a chat. We'll have some plans and booklets, and you can see exactly what it is about and the excitement we have got over it.
I am very excited about the project and the funding is there for it. We will not put ourselves in debt. The most important thing for us is to secure the future and create something that is a sporting legacy for the area. The centre of towns are changing everywhere, but once they build these 6,000 homes it shifts a little bit. That's potentially another 25,000 people and we become 100,000 people and I think that can sustain a Championship football ground. That is what we have got to work on, not what we have now but what we could possibly get in the future.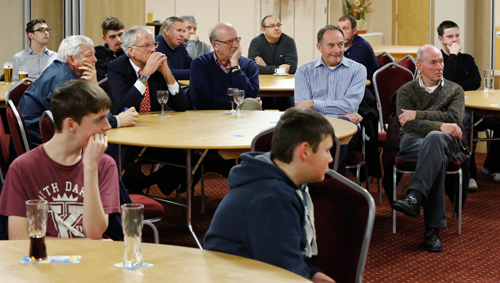 RW has been in charge now for about four months, on a day to day basis how do you keep it fresh?
RW: It's fairly straightforward. You have your weekly plan of what you're going to do, your setup depends on when your games are. All sessions are different, it depends on how the game has gone before. We'll look at a few weaknesses from the game before and work on them on the training ground. A big difference that I have implemented has been a debrief on games, with a selected debrief for every player. So we sit down with them and go through his clips, picking out a few things he can improve on but more importantly to work on the positives. I've tried to work on the positive side of the team. I feel these players are capable of getting promoted from League Two. We have quality, experienced players that have played in League One or the Championship, so I've tried to spin it fully and concentrate more on what we do. Obviously we respect the opposition and look at bits of what they do during the week, usually Thursday afternoon, but then we focus fully on us. We do that as a staff, and only show little bits to the players, but it is mainly focused on what we are going to do.
Can you tell us who is going to be out of contract at the end of the season. And congratulations RW, as during your time as manager we've only been trailing for about 15 minutes against Portsmouth.
RW: It shows how important the first goal is. The stats are something like 85 per cent of the time when you score first you do not lose. It is a thing we have focused on, and try to be offensive in most games. I've tried to set the team up to go and win. It hasn't happened every game, I'm certainly disappointed in the past few games with the creativity in the final third. Deon had played a key role in that, in linking up the ball and allowing us to get wide.
There's only half a dozen or so contracted for next season. It's a concern, it can work two ways: on a positive note, it keeps players on their toes.  They're not sat there on two or three year contracts as some players do, I don't think any of the lads here have done. From a supporters point of view, were putting a team out that is competitive, hard-working and showing desire and drive. As a supporter you recognise you won't win every game, but the lads will always put a shift in and work hard for the shirt and I hope the fans appreciate that. You go to some other clubs and some players don't put a shift in. In the 14 games since I've been in charge the players have done that. We've never lacked that commitment.
This is a period we need to embrace. Since 2009 we've not had a promotion push, staying up in the Championship is probably like a promotion, but you're not winning matches. After that it is relegation, 18th then relegation – tough times. So it is important to embrace this, we want to go up in the top three. The chairman has been fantastic with his backing. This week we've looked at a Plan B if we need that extra striker in on loan, when a lot of clubs would say there is nothing available and to get on with it. He's not done that. We speak most days and he has been very positive, and if we think we need another striker until Deon gets back in the fold money will be made more available. I can't ask for any more support.
Will Tony Daws officially become assistant, are there any plans to change the system when it is working so well?
RW: We're going to go with this until the end of the season, then see where we are. The chairman asked me to have a look for a No.2 and there are plenty of names in my mind, but with it going so well it would be silly to change that. I have been delighted with Tony's support, the same from Andy Dawson and Paul Musselwhite as well. We've been a great group. We played together (Russ, Andy and Paul), we're all ex players and know what the club requires. I am delighted with the staff I've got alongside me at the moment and that won't change until the summer.
Ten years ago Steve Wharton described this as a well-run family club. When he left there was a £2million+ loan to keep us afloat, what is the position and are you happy with the full-time non-football staff.
PS: I am still getting to grips with quite a bit at the club. It is difficult when you come in after someone has been here for such a long time and change things straight away. It is very easy to change things on the pitch, that is usually the first thing we can do, but behind the scenes it takes a little longer to change things. We need to change the way we approach some of our tasks. Financially we need to look at our costs, which is the first thing we have been doing.  We don't know where our cost base is for quite a few things at the minute. We do need to improve our catering facilities, certainly those around the ground. We will be bringing those back in-house next year, and I can promise you a completely different look to the matchday catering experience. We need more variety, there needs to be more family options. We're hopefully going to use next season as a springboard into the new stadium so I hope we can try a few things. The club has been on a downward spiral, people have been made redundant and there is a £2.1m loan in there which is painful. It has to be paid back. I'd love it to be zero, but that's not the case and that's fine.
What I have seen over the past six months is a complete change in the attitude of people. It has been great. There is a real positive buzz. We do need some more people in the system, there certainly won't be any more redundancies. If we move to the new stadium we intend to employ a lot of people, it will make a huge difference to us. I need to bring in a couple more directors who have financial and commercial backing who can help take us through because no one can run the stadium on their own. We are now at the right end of the table and have been in the top three since December. We are getting there. The club is safe under my stewardship, I can promise you that. I will not put loans in to the company, I will put money in by buying shares. I intend to improve the financial situation, make it stable and hopefully kick on from there.
Tata are the biggest employer in the town but don't have a single advertising board at the club, is that a concern?
PS: It is about having something to offer these companies. Most of the budgets have been hit hard, so sponsorship for sport seems to go out the window as their main aim is to keep people employed. Commercially I expect a lot more people to be on board with the new stadium as we will have a lot more to offer. Companies like Tata will be our target. We have been reliant on a lot of people who have always supported the club and will give their last fiver to make sure the club survives. That is fantastic, but that has to change. We are only just starting to kick out of this recession, it is looking better out there and we will bring those extra sponsors in. Now we've got some great top-of-the-table matches coming up and if we are successful – and in League One – we offer more exposure.
RW: I think a lot if it starts on the pitch. If you are winning matches people want to invest. You want to put your money into something that is successful, and it hasn't been for the past three years.  If you're trying to sell something and we're top of the league, people are more likely to buy it. We have to get it right on the pitch first, then sponsorship will come back.
Following on from catering, is the club shop something you would like to bring back in house?
PS: Takings from the shop have gone down, as has everything. There are some basic things that need doing. The first thing is to do it on the field, now my focus is on trying to put to the fans a good business plan showing what this new stadium can bring us as we will not make it work at Glanford Park. The stadium will have rooms big enough to cater for the numbers of people you need to make money from events. We bring people in here, serve food and put acts on, but get about 130 people. It's never going to work, so we need something a bit better. This Christmas coming we're going to have eight shows rather than three, we're really going to push Christmas lunches from March. On New Year's Eve we'll have an event at the club, with a marquee in for most of Christmas outside. We've got the ok to sell 30/40 tables already for NYE. We are working hard on this as it is part of what we'll do at the new place, but we want to do it here. We'll do new events over the year, try and make pre-season a bit more lively so that when we do move into the new stadium we'll get it right.
Question from floor raised concerns about catering in the Clugston Stand, where staff were not serving because ordered to do other jobs.
PS: It is painful at times. We know what is needed, but can't do much about it until the end of the season. We have spoken to the caterers, but it is hard to control that unless you have got really good management in place. We know that needs to change. We lost £1.5m last year, we can't sell enough hot dogs to make up for that but it is part of the bigger picture. We are on with it.
There were 6,000 present on Sat (v Chesterfield) and around 2,200 were away fans. My question is about engaging with fans who have drifted away. I don't want to be sat in a 12,000 stadium with empty seats and no atmosphere. What plans do you have to engage with fans? I think the first stage in engaging with fans is asking them where we can improve.
PS: You're absolutely right, and I've said all along the Trust have a place in this whole project. The fans are the most important thing. Clubs like Brighton have got it right, where they do a lot more for away fans. The idea would be if you have 2/3,000 away fans you get them into the ground early enough to eat and drink, and actually put money into your pockets. To do that we need to create an atmosphere for them, almost a home atmosphere – bringing the food and drink they normally have at home so the next time they will bring someone with them because it has been such an enjoyable time. We can't get it right all the time, and we get some awkward away fans as well, but if we can generally make it a better experience that is great.
Our focus is on making it a better experience for us, first. We need the facilities to be better, like the catering and toilets. The whole ground is a little tired and you can't just paint over it. If you walk into a dark room, you feel dark. If you see a smile behind a counter, you tend to smile back. It will be interesting to see how we can implement that kind of survey.
We are well supported away from home, from a head count of the home crowd and the fans we took to places like Mansfield or Oxford. We can give you a lot of information on what we get from other grounds that you don't get here. You need to survey the home fans. There are good things we've seen at away grounds which wouldn't cost a lot to implement, for instance if you want a beer before the game there are no real ales in the Iron Bar. There's nothing inbetween the restaurant and pies. I think home fans could give you a really good feedback for the new ground. I've no doubt you'll give us some marvellous things, but you'd also have a really good survey of what people in the town want.
PS: I totally agree. What we do on that survey is really important.
Question from the floor Raises concerns about treatment of away fans.
PS: Sometimes normal fans get tainted by what happens with other fans. Stewards sometimes react a certain way because they didn't react quick enough the last time. We have to leave things like that to the stadium manager, and you're not going to please everybody. Sometimes we'll get it wrong, and when we do we need to listen and try to improve that. It'll be important when we move, because we want the families back.
I've noted that, if that comes in writing through to me I'm quite happy to read the notes with the general manager and stadium manager and try to get to the bottom of it. The training of the stewards is important, we have to look at that and see if we can improve on that.  It's something to look at.
If you believe what fans say on messageboards, away fans are treated better than home fans. After the Mansfield game some were frisked at the next home game. It is not something you want when you go to a match. I think this is a pretty friendly club, but a smile is worth a lot more than a threat.
PS: It can be difficult at times to look after people on a matchday, because there are always one or two who have had too much to drink and get lairy. Then when you remove them their mates don't like it and it escalates.
People being searched was all down to what happened at Mansfield. We were put under warning as a club, and before that match the Football League's chief safety officer came here, she told Alan Walsh she wanted people to be searched.
Why were fans going into DRE targeted for searches?
PS: It is pretty impossible to search everybody coming into the ground. The stewards were asked to do it, I left that down to the stadium manager. We were under orders to search, and if we didn't do it we'd be fined. We did the best we could on the day. Some people got upset because they were searched, ok, but we didn't search everybody because we couldn't. They're doing the best they can. When people let of flares in area where they are lots of people, including families, it is not a good thing. We can't just ignore it.
How many points do we need for automatic promotion?
RW: Every year for the top three you look for that 80 point mark., though 79 got third last season. Top three is our focus, it would be crazy to look at play-offs because you aim high. The play-offs have not been mentioned by the players, our focus is fully on the top three. We want to go and win it. That puts pressure on people at the football club, but you've got to have pressure to get the best out of people. We're aiming top three and it's going to be difficult, there's seven teams that all have a chance of top three. The results are hard to predict because it is a tight league, and if you don't turn up you'll get beat. We've competed to win every game, and if we can keep doing that we'll be there or thereabouts.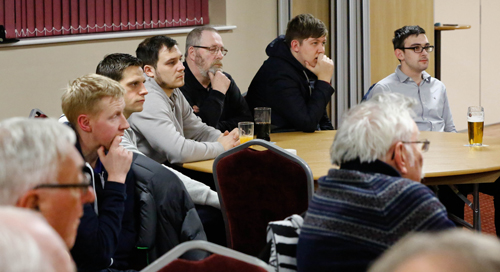 Going back to Mr Swann's comment about pre-season, many fans would love to see a Premier League club here.
RW: I was at Old Trafford on Monday night watching Manchester United's U21s against West Ham. I managed to grab David Moyes for five minutes and, fingers crossed, he can send a team over in pre-season. It won't be a first-team, because they'll be abroad on a pre-season trip. I have to speak to Warren Joyce, who heads up the U21s, to come over here so that is a possibility. It would be nice to see a Premier League first team, but it is very difficult because they are jetting off all over the world.
Are you enjoying your spell as manager?
RW: I've felt ready for the past few years. I've done all my qualificiations – it is great experience being a no.2. You see some managers go straiht from a player into a manager's role, but I'm really pleased with my 14-year apprenticeship. I've observed hundreds of games, and sometimes as no.2 you can step back and view the game in a slightly different light. I know the players inside out, which I think has been important. If the chairman had brought someone in new from outside straightaway it would have taken them a couple of months to get to know the players and I think we might have been sat mid-table now. With me know the players it gave me a head start to know what I think is required for us to kick on.
You mention positivity. Have you any of Nigel Adkins' approach inside you?
RW: I've done a couple of psychology courses and have the Uefa Pro Licence, which means I can manage anywhere in the world. That doesn't give you experience as well, it's like your driving test – you pass that then start developing. It's similar in football, you pass your exams then it's when you're stood in that techincal area where you learn your trade. I think your work is done during the match when things happen that you have to react to. If you've witnessed those kind of events a couple of hundred times you'll make more good decisions than bad.
I worked with Nigel here. We used to have conversations all the time. My approach is my glass is always half full. You can pick negativity out of every game, but I think it is so important to look at what you've done well and show that to the players and tell them how well they are doing. I'm always going to be on the positive spin. When we do lose a match I will debrief as normal, draw a line under it and we'll move on to the next game.
Has Mr Swann ever put his nose into your business?
RW: He is very supportive.
When we go up, which other two clubs are coming with us? Who has impressed you the most?
RW: Fleetwood impressed me here. We played them on the Monday, I went to see York v Chesterfield on the Tuesday and Chesterfield were outstanding on he night and York struggled. York's next fixture was Fleetwood away, and they went and beat them 2-1. I think that shows just how close the league is. Anybody and beat anybody else. You can't control the other fixtures. You are looking for favours here and there. Once it comes to the end of the season the bottom teams start to win and the top teams start to get a bit nervy.
There is a tinge of disappointment with the draws rather than wins. I understand why people say they'd rather win one then lose one, but losing games can affect players, with this unbeaten run they are going into every match looking like producing. For the group to look back and think our last defeat was at the start of November is a great achievement. It is in our hands, that is key. We've tried to play with intensity to our game, playing up the pitch. I think teams are coming here with a different gameplan now – even Chesterfield, with 20 minutes to go Paul Cook was happy with a draw. He went 4-4-2 to match us up because he thought we were in the ascendancy and wasn't bothered about going for the win.
The Football League consulted with clubs over safe standing. How did the club vote, and what are your views on safe standing being in the plans for the new stadium?
PS: We were at Derby County for the meeting, and voted positively on all four questions. It is important to us because we are looking at a new stadium. Bristol City have put trial rail seating in and Aston Villa have said they'd like to have a go, so it is starting to take some momentum now, and if it works we will be there. But we need legislation to come in and the government to be brave enough, then we will do it.  The question is will they? There is a long way to go but there are a lot of positive signs. Most Football League clubs were in favour of it,.
Bristol City have already put it in, but it's no good us doing it then finding out we can't use that area. The only way we will put it in if we are absolutely certain we will be allowed to use it.  I would like to put standing in there to start with and give ourselves a few years, but the fact we'd have to go in to the Championship with all-seater means we cannot do that.
A lot of clubs will not be able to put it in because they cannot afford it. A lot want to try and put it in because they feel it will work. We will see how the Government respond to it. If they say we're allowed rail seating, then I will put it in. If they haven't made the decision by the time we put a spade in then I'm afraid we're going to be all-seater. That doesn't mean that we can't change it. We are looking at putting in 1.5 steps on a seating area to give us the opportunity to take seating out and put rail seating in. The cost for the extra half a step is nothing. Because we have gone for 12,000 we have the ability to do that.
SUFC has great away support in my opinion. I wondered if things became nip and tuck towards the end of the season, the club would consider subsidising away travel to these long away trips.
Also pointed out from the floor that last six away games cover 5,000 miles.
PS: The first thing we did this season was guarantee we have coaches going to every away game. If Russ gets this nailed up by the end of March then I'll start to give you a bit of free travel! It's a bit chicken and egg. At home we still need the finances coming in from fans to keep us going. Away there is a little bit of work we can do, we know we have Exeter, Plymouth and Torquay away to come. If we're successful and fighting for that third spot we want as many fans as possible to be there. When at Gainsborough I paid for fans to go to Wrexham. For me, I've no problem putting on coaches for free if we're in that position.
The away following has been fantastic. At Dagenham, considering the weather, Oxford and Mansfield we were superb. I've been clapping even though you guys can't see me. It has been great to stand there as an away chairman, with the rest of the directors, and look over to you guys. We really do appreciate it. I've never seen anything like the Dagenham game in my life – we were getting soaked.
The past two home games we've conceded a penalty in the same area which were both dubious.
RW: I described them in the press as modern-day penalties. Five or 10 years ago there is no chance they would have been given. The one on Saturday was a little bit naive from Terry Hawkridge, but what a fantastic season he has had – especially where he has come from. He has come from a similar route to what I did, non-league, and has played 30-odd games this season when we really expected him to play a dozen. His improvement has been terrific, you've seen how good a player he is technically and he is still learning It is first full season in the Football League the same as Sam Winnall, You forget Sam has had a six-month career really, he has been at Wolves as a kid and got lost but Terry has had to come from park football all the way through. He has not even had an apprenticeship, which I find amazing. You pick up a lot of players from non-league, like Luke Waterfall who was at Barnsley, who have had an apprenticeship at a Football Club so you know they have had some kind of grounding as a young boy. Terry's had nothing, and developed himself each year to progress up the leagues. So, OK, there is some naivity but look at the bigger picture and see what a terrific season he has had.
We discussed at our Trust AGM that a long-term aim has been to have a supporter representative in the boardroom. What do we need as a Trust have to do before we could be considered to have someone in the boardroom with you?
PS: That's a big question. I think your numbers need to increase. We can help with that. My personal target is to buy enough shares so that I can drive the club forward, so that I can have enough control to get us to a point where we are comfortable.
It is very difficult with my investment to then introduce somebody onto the board as a normal director, and this goes for anyone, who is not putting a substantial amount of money into the board. It is very difficult if I put £2m in, to be sat on the board next to a guy who has put £5K or £10K in. That doesn't mean there is not a place for the Trust, but the way you overcome that is by having more members. If you represent more members, it will be easier for you to come on the board. And that's not necessarily paying something to come on the board, because I don't think that is the way to do it. I think it is about growing the membership. If you have a big membership and represent more people, you are more likely to be on the board in some way or other.
That is one individual on the board, and we still have to get over the privacy, need for an immediate decision sometimes. We have to look at those processes. There is a place, now it might be that there are two boards within the club – an executive board, the people putting the money in and investing in the club, other directors or maybe even major sponsors – and underneath that is a non-executive board who actually help run the stadium, connecting with the fans and making everything work. I think we need to look at the possibility of those two models. It is a step closer and something that will take a little while, and I think there is that possibility of a two-board split.
Is there anything you know now which you wish you knew when you came into the building?
PS: I don't think so. I come from a football background and nothing surprises me. I knew things were not going to be 100 per cent right otherwise I probably wouldn't have been here in the first place.
A lot has gone on in the short period of time I have been here. A lot of things have happened on the board with ill-health. It is hard because the board members have been here a long while and have a huge amount of experience. It has been difficult, but I thrive on that challenge. Planning for the stadium will hopefully be in by the end of April, so we're not far away. We will have a sitdown and show everybody what we're planning before that. It is really important fans see the plans first. We have done a 38-page document for where we want to be. We are now doing the internal plans. It is a really exciting time. I want it to be a fans project, in 10 years' time regardless I want the fans to own their own stadium. The way to do that is not to borrow against it. I'm sure in 10 years we'll have a legacy that we can all be proud of.
Pointed out that in other supporter groups where there is a board member – citing FSF chair Malcolm Clarke and the Football Association – the membership of that group do not expect to be consulted on every decision.
PS: Brilliant. If I have five directors on the board putting £100,000 a year and wanting to make decisions, it makes it difficult to get the Trust on there. So we need to look at how to integrate fans, via the Trust, onto a board that has a little bit more contact intially.
One thing those people putting money in need to think about is how much fans have put in over the years through supporting the club. When we're all gone the fans will still be here. It's that approach we're looking for the club to embrace in terms of engaging with fans, through the Trust and other supporters groups.
PS: You're absolutely right. But money from fans alone will not get us where we want to get. So we have to invite people onto the board who want to invest £100,000 and they have to have the knowledge they are investing in a business rather than just something for the fans. If they treat it as a business, as businessmen, it will definitely work better. Models change all the time at clubs, in the Premier League now it is full of European money and there is no chance of me every becoming a chair of a Premier League club – unless we get Scunthorpe up there – because of the amount of money that is involved. If you're not a billionaire, you can't survive. Now in the Championship I can have a bit of fun. I think we can get there and do it, and really have some good times. It is about the fans, but we're getting 3,000 when we should be getting 6,000. It is not just about engaging, it is about winning. You could have the nicest place in the world, but if you're bottom of the league fans will not come through the door. I appreciate every fan who puts their money in through the turnstiles, but it just isn't enough to keep the clubs going because there's so much money in the game. You need people like myself who want to put money in and create a legacy, that is my aim — to create something for you in the future. I like to finish and make sure I get a project down. The most important thing for this club is to start to go back up rather than down. I will not lose my focus on the fact the fans are important, but there are a few other important jobs to do to get that right and be able to let fans have a greater say. There probably won't be a fans-run club in the Championship that is successful because you just cannot raise enough money – individual wealth will drive clubs to the top in partnership.
Premier League clubs have been talking about having feeder clubs, buying other clubs then using them to develop their players. There is a drive by Greg Dyke to get more homegrown players, but that doesn't necessarily mean British players.
Would you consider partnering with a Premier League club as a feeder club?
PS: No. It comes down to money, greed and survival. There is a question at the moment for Football League clubs about feeder clubs, I think there may be a place but not in the Football League – perhaps at Conference level, so long as clubs cannot be promoted to the Football League without the OK of the FL or disbanding the scheme. At the moment you can have five players on loan from a single club, which we think is good enough. If you look at the stats of British players going through Football League clubs, it is fantastic.
You said you have every intention to have 51 per cent of the club, so how does the Trust having someone on the board with a negligible number of shares present a problem?  Surely any other serious fundraising directors would have a similar lack of say because you could overrule them?
PS: I am open to many things. It's not about the money, it is about the membership. It's not the voting issues, it is about balance in the boardroom. The most important thing for me is the football, I invest the money because I enjoy it. There are some practicalities on the board to work out, and I do think the membership needs to grow. If our fanbase grows to 6,000 with the new stadium you would want 1,000 members in the Trust. If you get to that stage it is not about money. I do think there is maneuverability in terms of trying to adapt a new board to get you involved. Does there need to be a desperate need to get onto the board when it was getting more information that was more important to you? We can make sure you get every bit of information that is legally possible. I have not held back with the stadium. You can ask me anything, and I have not held back. It is what you expect to achieve on that board. There is a way to go, and it is not that I don't want anybody but it is about looking at the system to find a way to fit you in.
LT: From the Trust viewpoint, in terms of making decisions we'd expect any representative on the board to be independent and not come back to us on everything.
PS: We also need to figure out how much you expect your representative to report back to you as a group. We don't want them to notify you that we're after a player for instance. We try to be as open as we can, but there are some things we cannot tell you. It's an open door and I believe a different type of structure is something we're going to use, which will involve everybody and not just a board. We will create more openness, as there has been over the past six months. I am tied legally on what we say as some information cannot come out, but you only have to ask about anything on the whole operation. We want to include you and will do, we definitely want you involved on surveys and I think that is a good stepping stone to further involvement.
Images courtesy of Damon Campion.